Photos of B. Tommie Usdin
I have been told that some people want to know what I look like. So, here are a few photos: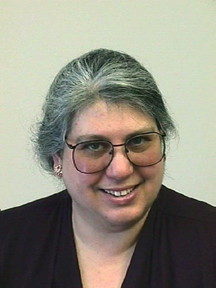 Working
Three friends, three birthdays, three cakes
Michael Sperberg-McQueen (left), Steve Newcomb (right), and I (middle) have birthdays within a week. Since we were together (planning an Extreme conference) on/near our birthdays, we had a party.
With "Bubble Fish"
The fish bubble gadget makes great bubbles. It also makes very odd spaceship-shoot-em-up sounds, but these can be ignored.
From the Back
I'd like to think my hair isn't this messy all the time, but I suspect this is pretty much what I look like these days.